So another embarassing event for BathNES Council. The Council has concluded its 'investigation' and decided that 'no slow worms were harmed during the clearance of the Tufa Field'.
We are left to conclude that this was in fact an act of mass suicide.!
They claim they could not establish when the photographs showing the slaughter were taken.
This was actually the easiest part of the investigation – all photographs carry a timestamp embedded with the photo. This is known as EXIF metadata and is very simple to find. For the purpose of actual evidence, the slow worm photographs were taken at 13:55 on the 11th September 2020.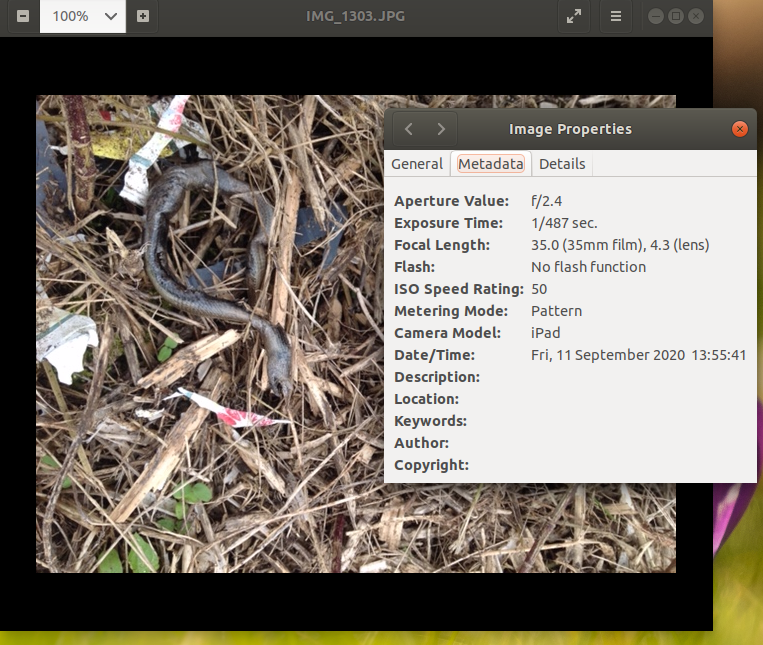 For the purpose of reviewing the timeline, here is the order of events.
Workers first entered the field on the 1st September with industrial brushwood  cutters, starting at the eastern end of the site. This continued the following day.  On the 3rd September , the Forest Mulcher tractor was introduced clearing the periphery of the Tufa Field in one day. Workers continued to use brushwood cutters to clear the areas  not accessible to the tractors on the 4th September and the week of the 7th September. On the 7th September, work also started with a mechanical digger to create a trench to  bury the base of the plastic fence, and workers hammered in sharpened wooden stakes to support this. In general, working hours were 9am to 3:30pm.
Work continued until the morning of the 11th September to establish the fence. Evidence photographs were taken on the afternoon of the 11th September, when workers had left the site and it was safe to approach  from residents backgardens where  the natural hedge and scrub barriers had been removed.
There is therefore a clear chain of events between the start of the work and the evidence of slaughter being taken.
All of this could have been established by simply asking Residents who witnessed the events.
Layering the incompetence of the investigation on the incompetence of the Contractor and the lack of oversight from the Council officers  simply leads to the conclusion that this Council is not fit for purpose and requires a radical change of Leadership and Management if it is to be trusted with managing the ecological emergency. The Chief Executive must  bear  full responsibility for the failed investigation and the Leader of the Council must consider her position and whether she has the necessary skills and experience to continue.